Breaking News, LeBastards!
I've just heard that the Cavaliers have traded point guards Delonte West and Sebastian Telfair to the Minnesota Timberwolves for point guard Ramon Sessions, center Ryan Hollins and the Timberwolves 2013 second-round pick!
So, now that the Cavs have made their first move in the post-
LeBron
era, what does this mean for the Cavs outlook this upcoming year?
They obviously lose the defensive toughness and ballsiness that West brings to the court every night. On the flip side, they also lose the headache that was West's legal troubles. The loss of Telfair isn't a big one for the Cavs, considering that he hardly played at all in his short tenure with the team.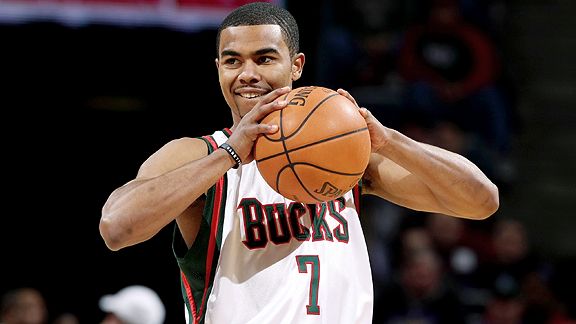 Ramon Sessions
In return, the Cavs acquire a young multi-talented point guard in Ramon Sessions, much like what new head coach Byron Scott has been looking for. Sessions has career averages of 10.0 points, 4.7 assists, 3.0 rebounds and .9 steals per game. He had a breakout year in 2008-2009 with 12.4 points, 5.7 assists, 3.4 rebounds and 1.0 steals per game, but after signing with the Timberwolves before last season he failed to mesh with point guard Johnny Flynn. Most notably, Sessions had 24 assists against the Bulls in 2008 while playing for the Bucks. There's no doubt Sessions has talent and has shown that he can run an offense, he just fell victim to Johnny Flynn's stellar rookie season last year. At 24 years old, Sessions still has plenty of time to pan out into the point guard many people thought he would be just a few years ago.
Ryan Hollins.
The Cavs also acquire 7-foot Center Ryan Hollins, a 25 year old prospect who started 27 games and averaged close to 17 minutes for the 'Wolves last season. The only other Center on the Cavs' roster is Anderson Varejao, so Hollins is almost guaranteed to be a rotation player and may even challenge for the starting spot, barring any future roster changes.
The bigger question that this trade brings up is the future of Mo Williams in Cleveland. The addition of Sessions could be viewed as a sign that Mo is on his way out of town, as the Cavs will undoubtedly want to give the 24-year-old guard the bulk of minutes at point guard to develop and prove himself. Most likely, considering that Mo and coach Scott were seen playing golf together at Firestone earlier this week, this just signals a potential position switch from lead guard to shooting guard for Mo.